Feeling downie? Eat a brownie! Have you already heard the great news? We now offer the most delicious, mouthwatering and special brownies! You think we exaggerate? Okay maybe we are not very modest BUT we do not exaggerate when we say our new brownies are the most delicious ones you will ever eat! And we are so happy to be able to offer them to you as well! You are a bit confused how we as a street food market operator are offering you brownies?
Urban Food Fest does not only operate popular street food markets across London, we also have unique other offers which you can choose from to make the time pass a little bit quicker while our markets are closed. But first of all, before we come back again to our brownies (yes, we really can't stop talking about them…) we want to tell you a bit more about what we're usually doing.
Our speciality are Street Food Markets. We from Urban Food Fest have street food traders serving street food dishes from all around the world in order to create the best experience possible for you! That basically means that there is any street food dish at our street food markets you could possibly imagine! From Caribbean over Italian and Asian to Greek or Indian street food, we promise you'll expand your culinary delights in terms of street food! There's honestly nothing you can't find at an Urban Food Fest's street food markets. You are indeed spoilt for choice at our street food markets! We can assure you that you'll discover so many new street food dishes you've never seen before on our Street Food Markets. You will be impressed by the variety of cuisines from all over the world that you will find in the middle of London on our Street Food Markets. The best part of it: our street food is always freshly-made in front of your eyes by the best street food traders! And we also offer the best drinks and sweet treats at our street food markets as well! So what are you waiting for? Grab your friends and swing by to have the best street food experience at one of our street food markets in London you ever had! In doing so, take a seat at our street food markets by using our beautiful vintage seats and and vintage tables. The beautiful vintage furniture that we have at our street food market turns it into an even more special street market experience. The fun chairs and sofas as well as the vintage chill-out zones at our street food markets are not purely a way to get some rest but at the same time it is a place to meet new people while taking a seat on our vintage furniture and enjoy your street food and cocktail from our bar. Giant Jenga and other fun games and activities can be found at our street food markets too and will give your street food experience the extra bit of fun. Our vintage furniture can be hired as well! If you're planning a private party for your loved ones or an event for the company you work at you can hire our beautiful furniture! You can also hire beautiful vintage street food trucks – with and without street food!
But back to our brownies… please excuse us talking all the time about them and making you probably craving for them right now with the pictures, but we are so excited to finally launch them and bringing some Urban Food Fest-Vibes to your home! You think we just got about the classic brownies? If you like it classic with just chocolate – we got you covered of course! But if you know us then you know we always got something special and that's why we got mixed tasting box of 6 different delicious flavours: Oreo choc, cookies & cream, Lotus & caramel, Kinder, Twix & Bakewell tart! I know… mouthwatering right? And it's so easy to get them! We're going to send you a package with all the needed ingredients to your front door and you just need to start! By yourself or with you friends and family – fun is guaranteed! And after this you can enjoy those heavenly and chocolaty masterpieces and be proud of yourself! If you want some more company or you need help we would love you to join our virtual events, just book a virtual workshop and bake virtually together with your friends, colleagues or friends! We don't just do baking workshops – from virtual games workshops to craft classes where you can build your own teddy-bear – we got so many different classes with one thing in common – 100% fun! You just book the workshop and we take care of the rest. Everything you need will be delivered right to your doorstep and your event leader will guide you through the whole workshop and you will have a unforgettable time.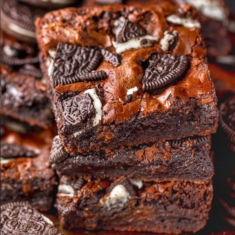 Okay I know that was a lot: Brownies, Street Food Market, Vintage Furniture, Online workshops, Brownies again… but just try all of it!
If you want to start with the brownies, you can just email us on events@urbandfoodfest.com and pick one flavour or a mixed box with 4 for £11.95 or 6 for £16.95 + pp. We looking forward to hear from you soon and send you that sweet delivery!